SUDOKU MUSO
Overview
SUDOKU MUSO is a Number Place Software.
S.M. is the most popular number place software in Japan.
It has been downloded a lot. I'm delighted that.

*To play this software, Microsoft Excels is necessary.
*This software uses the VBA macros. So it is necessary to set some security setting.

Version 1.7.1 Download 156KB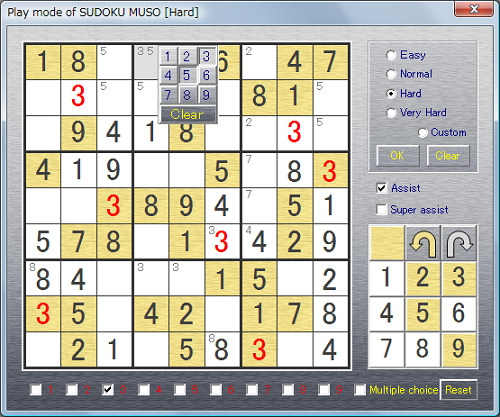 Features
*Generation
SUDOKUMUSO generates a game with original routine.
You can challenge four-level of a game.
In addition, you can customize a game specified by yourself.
This feature is available version 1.4.
*Print
You can print multiple games in one sheet. You can bring everytime to enjoy the game. 2 level of game can be included in a sheet. Moreover you can print the answer sheet.
*Analysis
SUDOKUMUSO has the ultra-fast analysis function.
SUDOKUMUSO could analyze the most difficult game in the world only in 0.031sec(note).
note:Windows Vista / Intel(R) Core TM.........

-Setting of the subjunctive when analysis
[Use] A game is solved with the subjunctive.
[Not use] The subjunctive is not used. The possible numbers will be
displayed after normal analysis.
*Play
Click [Play] button for starting the game.
You can play only with mouse. The keyboard is supported from version 1.3.

The below features are available for enjoying the game.

-Asist: The numbers, not used in the column and row and 3 x 3 blocks, are displayed
-Super Asist: The possible numbers are displayed.
-Memo: You can note the numbers in the square.
-Undo & Redo: Undo and Redo function can be used.
-Save & Load: You can save the game, and you can load the game saved.
-Pick-up : The arbitrary number can be turned red when you check the number.
*Others
-Result sheet : You can make a result of a game
-Leave red number : You can display only red number after analysis.
Soft Image
Based on the original routine, creating a four-level problem





And analysis of Number Place, the original number turns red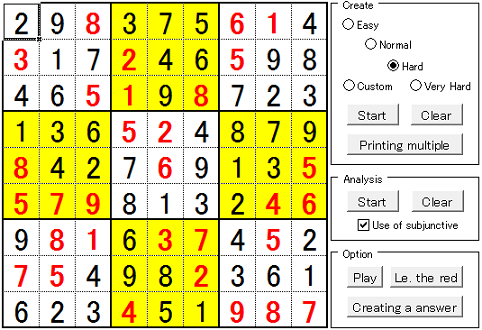 Print multiple problems at once.Special form is displayed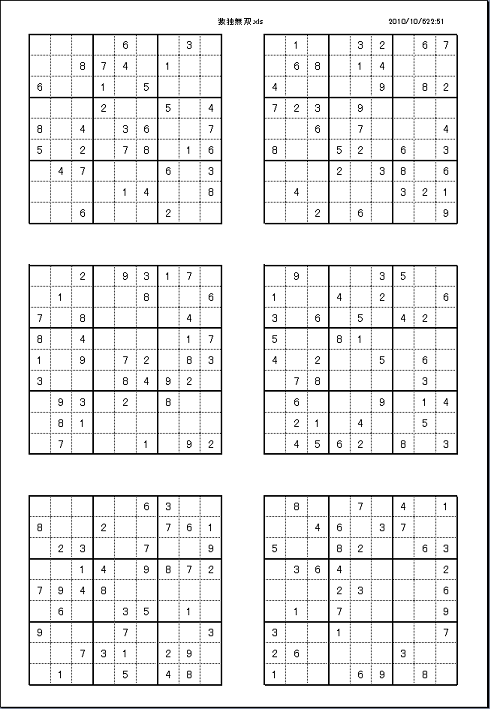 [Play] Button to switch to a [Play Mode] window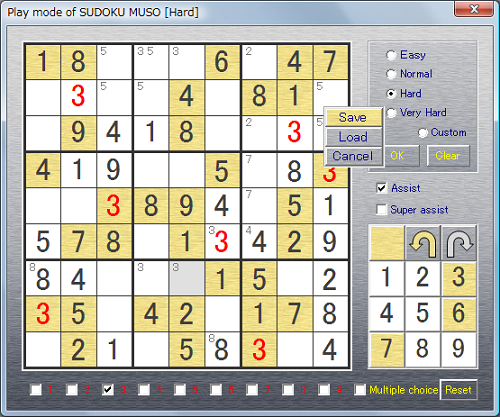 Version 1.7.1 Download 156KB
Custom Features
From Version 1.4, you can specify the location to create problems.


*Problems created by the Custom Features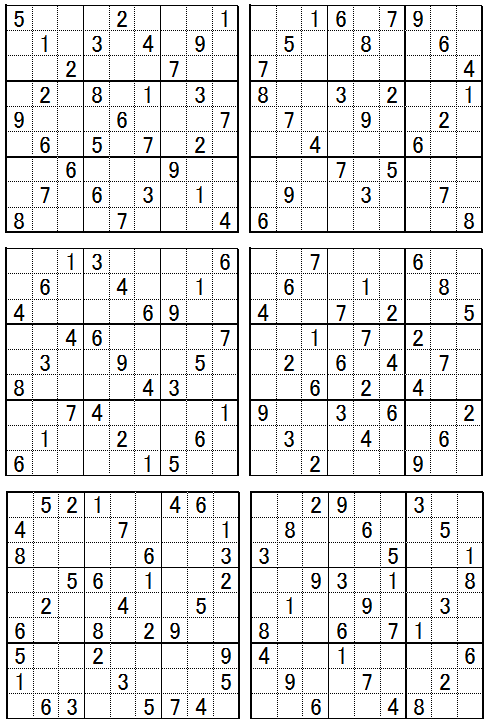 Operation Condition
-OS :Windows XP / Windows Vista / Windows 7
-Excel :2002 / 2003 / 2007 / 2010

Mac is not supported.

Mail